MAY RETREAT CANCELLED DUE TO COVID-19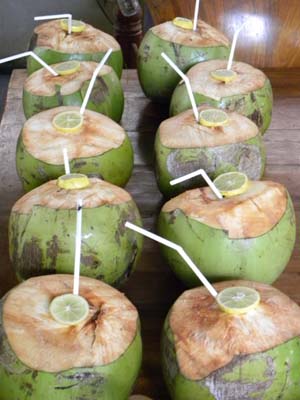 Bali Non-Residential Retreats
Non-residential means we meet as a group for scheduled periods of extended meditation practice from early morning into the afternoon/evening but participants stay in their own accommodation.
Included in the program are meditation practice sessions, question and answer periods, practice information periods and interviews.
A retreat of this type does not support the same intensity of practice as a secluded, in-house and completely silent retreat.  A non-residential retreat also has no set schedule outside the group practice periods.  Nevertheless, it affords an opportunity to develop extended practice in a closer to daily life situation and can help to reinforce for us an awareness of the opportunities for practice and the relevance of practice in daily life.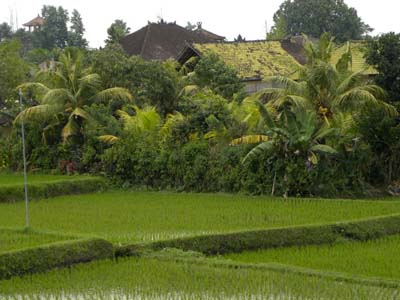 In India and Burma many people who live typical daily lives might practice for several hours during the day, or in the evening after work and in this way, lead practiced-based lives.
Eligibility:  The retreat is open to anyone who has previously attended a course or retreat I have conducted.  If you are interested in attending but you have not worked with me, please email me with your meditation history experience or reasons for your interest.
Location:  The setting for the retreat is on the edge of the rice paddy fields, close to the village of Penestanan, just outside Ubud, Bali.  We shall meet for group meditation sessions at Santra Putra Gallery, a studio of respected and renowned artist I WayanKarja.  Instructions for finding Karja's studio will be provided on registration.
Accommodation:  There are many accommodation possibilities in Ubud and close to Santra Putra itself.
Karja has a small number of inexpensive older and new bungalows that form a compound around the studio.  Karja's email can be provided when registering for a retreat.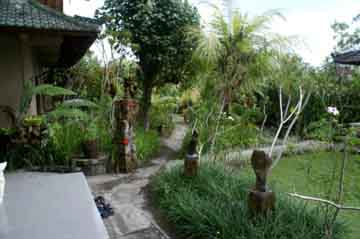 Also close by are Londo Bungalows (www.londobungalows.com), Melati Cottages (www.melati-cottages.com), Tjampuhan Hotel, a more upmarket option (www.tjampuhan.com) and Ananda Cottages (www.ananda-cottages.com), a slightly longer walk away.  Melati, Tjampuhan and Ananda are accessible by car.  Karja's and Londo's bungalows and others like them in the paddy fields, have only motor bike/pedestrian access and could require you to carry your luggage, at least on the way in.  Most bungalows provide breakfast as part of the daily rate but there are a number of small cafés close to the studio that are suitable for lunch and dinner.
Upcoming Retreats
Use the form below if you wish to lodge an expression of interest for my upcoming Bali retreats.
2020: Sunday 17th May – Saturday 23rd May ** CANCELLED DUE TO COVID-19 **
2020: Sunday 6th September – Saturday 19th September